Buried in the jungle of Chiapas, Palenque is considered one of the most important Mayan ceremonial centers. Knows its apogee during the classical era (600 - 800).
The excavations carried out along a perimeter of 1.3km² have unearthed the remains of what many consider the pinnacle of architecture and west Maya civilization.

The day for this hike was not the most propitious, but considering that we arrived shortly after a hurricane and another was coming was not so bad.

You visit the Temple of Inscriptions, which contains one of the rare crypts discovered in a pyramid in Mexico in 1952 by the archaeologist Alberto Ruz L'Huiller.
The tomb of Pakal, Mayan leader of the sixth century, were found baby walkers, masks, jade ornaments and other important objects.
Unfortunately the temple was one of the few buildings not accessible.
Despite the bad day, the site has been wonderful, and maybe the rain has intensified the colors.
The Palacio, where works for the preservation of artefacts are on going.
The Templo del Sol also here there are some frescoes still preserved and the Templo de la Cruz Foliada.
Founded in 1540 by Francisco Montejo known as "the ship's boy " Campeche is the oldest Spanish city in the Yucatan Peninsula.
Capital of the state, this city seems to live peacefully along the coast of the Gulf of Mexico. In the center of city there are beautiful colonial buildings with pastel colors and it is surrounded by "strongholds" bunkers used to protect the city from pirates.
Campeche was a strategically important to the Spanish due to its geographical position and for the export of precious wood from dyeing, the famous "Wood of Campeche".
Campeche is currently undergoing a major restoration effort. In the evening a small train enables you to make the tour of the enlightened walls. The local population lives from fishing for prawns and extraction of oil.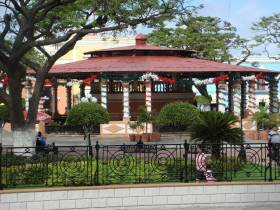 ---
⇐ Day 12: Palenque - Yaxchilan - Bonampak